Introducing a Modern Townhouse Interior Design
Neoklasika was commissioned to create an exceptional concept for a collection of four luxury townhouses along the Baltic Sea coastline.
Drawing inspiration from the unparalleled lifestyle of seaside living, the modern townhouse interior design mirrors the refined elegance of a superyacht.
Exquisite Material Selection and Ambient Lighting
A harmonious blend of materials, such as wood, metal, mirror, and leather, evokes the elegant atmosphere of a luxury yacht. The thoughtful and nuanced lighting schemes provide endless possibilities to set the mood for a tranquil evening or a captivating dinner party.
The Art of Spatial Transformation
Each of the four townhouses spans three levels, with the lower level featuring a spacious open-plan living area seamlessly integrating a state-of-the-art kitchen. As one ascends to the upper levels, the modern apartment interior design shifts from a visually stimulating living space to a softer, more serene bedroom ambience.
Bespoke Furniture and Joinery by Neoklasika
Neoklasika designed various bespoke furniture and joinery pieces to elevate the project's uniqueness further. These custom creations include:
exceptional doors;
a sophisticated kitchen;
an innovative staircase;
versatile shelving;
an enchanting fireplace;
intricate wall panelling.
This modern townhouse interior design project by Neoklasika showcases the perfect merge of luxury, creativity, and functionality in every detail.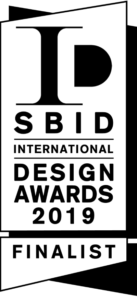 SBID 2019