The Art of Residential Entrance Lobby Design
Neoklasika presents an exquisite residential entrance lobby design for a luxurious twelve-apartment building just a hundred meters from the sandy shores of the Baltic Sea.
Surrounded by a serene pine forest, the lobby's glass facade allows nature to blend seamlessly with the interior, creating a harmonious connection between the outdoors and the elegantly designed entrance.
A Home Entrance Foyer with a Timeless Touch
Our designers have masterfully created a home entrance foyer with a timeless touch. The sophisticated colour palette and natural materials transform the interior into a gallery-like space where elegance and refinement prevail.
Drawing inspiration from the surrounding landscape, wooden wall panels and metallic structural beams echo the majestic tree trunks of the neighbouring forest.
The mirror and glass elements artfully capture the essence of the ever-changing water surface, while the light stone flooring evokes the sensation of walking on a seaside pathway.
Unveiling the Charm of Timeless Lobby Design
As you traverse the inviting lobby, you'll encounter art-deco-inspired leather furniture reminiscent of seashells washed ashore, further enhancing the coastal ambience.
In addition to its primary function of welcoming residents and guests and providing 24/7 concierge service, this versatile space serves as much more. It doubles as an in-house library, as well as a venue for temporary exhibitions and art installations. The dynamic atmosphere of the lobby enhances the experience for all visitors.
Neoklasika's dedication to design excellence, innovation, and personalized service is evident in every aspect of this exceptional residential entrance lobby design, ensuring an unforgettable experience for all who enter.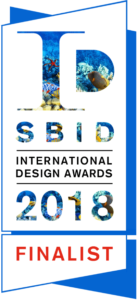 SBID 2018