Italian Restaurant Interior Design - Artful Transformation
Nestled in the heart of Riga's Art Noveau district, this Italian restaurant design project presented Neoklasika with an opportunity to showcase our expertise in creating luxury hospitality interiors that meet and exceed our client's brief and expectations.
The project included designing a dining area to accommodate 70 guests, a separate wine display room, and a bar room, all while reflecting the elegance and sophistication of Italian cuisine.
A Harmonious Blend of Classic and Contemporary Elegance
Our unique approach to the interior design of an Italian restaurant shines through in Invito's stunning interior. Seamlessly blending classical values with contemporary flair, our team crafted an inviting atmosphere that beckons passers-by to step inside and indulge in a memorable dining experience.
Captivating Visual Elements
As guests enter Invito, they are greeted by an array of meticulously selected design elements, including vertical stripes on the walls, ceiling, and floor, creating an enchanting, surreal ambience.
The sandy oak wall panelling contrasts beautifully with the playful reflections in the strategically placed mirrors, further enhancing the visual appeal of the space.
Artful Accents and a Refined Colour Palette
Our team incorporated exquisitely framed artwork on mirrors and walls to accentuate the room's ethereal lightness. The carefully chosen colour palette combines subtle shades of beige with smoky blues and violets, establishing an atmosphere of timeless sophistication within the Italian restaurant interiors.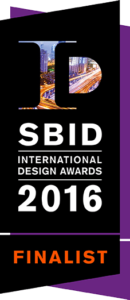 SBID 2016