Moroccan Style Interior Design
Neoklasika's design team has created a Moroccan-style holiday apartment in Jurmala's renowned Baltic resort city.
The design vision for this luxury living space captures the essence of modern Moroccan interior design, infusing a carefree, relaxing atmosphere throughout the apartment.
Rich, comfortable seating areas, elegant draperies, and vibrant cushions create a harmonious blend of contemporary sophistication and traditional Moroccan aesthetics.
Seashore Serenity - Colour Palette Inspiration
Drawing inspiration from the sandy hues of the seashore, Neoklasika's designers have skilfully incorporated a warm colour palette, enhanced by bold red and earthy brown accents. These colours evoke the spirit of Morocco and seamlessly blend with the apartment's modern design elements.
Decorative Painting Techniques in Interior Design
A team of highly skilled artists executed various decorative painting techniques on the apartment's walls, requiring expertise and dedication to their craft.
Arabic ornaments adorn the walls, showcasing Neoklasika's commitment to creating an authentic Moroccan-style interior.
Stained Glass and Ambient Lighting
The living room features a stunning stained-glass window, casting an array of colourful light across the space.
Paired with the deluxe fabrics and natural materials found throughout the apartment, this holiday retreat offers a cosy oasis for relaxation and connection with loved ones.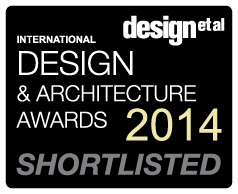 The International Design and Architecture Awards 2014