Embracing Modern Futuristic Interior Design
At Neoklasika, we have masterfully crafted a modern futuristic interior design for an oceanfront apartment, blending elegance and emotions seamlessly.
The design concept is tailored for confident individuals with a distinct vision of their aspirations and expectations. Every element in this luxurious abode is thoughtfully envisioned and brought to life by Neoklasika, with futuristic design concepts and custom-made furniture adorning the living spaces.
Curvilinear Elegance with Timeless Appeal
The furniture design in this apartment showcases curved and wavy forms in soft hues, exuding a sense of timeless sophistication. Elegant accents, such as sculptural metal elements and intricate glass details, demonstrate the boundless potential of contemporary glasswork techniques.
Our objective was to create a bespoke interior featuring handcrafted furniture that will remain timeless for generations. The wall finishes incorporate diverse textures and unique combinations, creating nuanced tones that captivate the senses. The decorative wall paintwork is a prime example of the artist's signature style.
Nature-Inspired Lounge Area Design
The lounge area embodies classical beauty and elegance in its furniture design. The lighting fixtures' composition resembles a pebble-strewn seashore, with each hand-blown crystal fixture boasting a personal form. This motif is further reflected in the Neoklasika-designed floor rug, which features an irregular geometric pattern reminiscent of a pebbled beach.
Artistic Master Bedroom
In the master bedroom, high artistic value meets functionality and practicality in the furniture design. Exclusive polished rosewood lends a luxurious touch to the space, while curved shapes are adorned with individually textured, polished mother-of-pearl surfaces.
The lighting fixtures captivate with their simplicity, showcasing smooth hand-blown bowls suspended by a delicate cabling system, creating an illusion of floating elegance. Contrasting white and metallic finishes accentuate the ethereal atmosphere. Inspired by the textured relief of a sandy beach, the exquisite rug completes this sanctuary of comfort and style.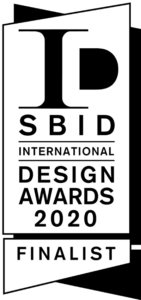 SBID 2020