Neoklasika has masterfully crafted an award-winning interior design that revitalizes the essence of Art Nouveau while seamlessly blending design and art. This tailored interior exemplifies Neoklasika's expertise in creating luxurious, bespoke spaces that reflect their client's unique tastes and aspirations.
Harmonious Entrance with Award-Winning Home Interior
Upon entering, guests are greeted by a striking hallway encapsulating the design concept's spirit.
An intricate ceiling mural is mirrored in the custom-made rug's motif, and a central mirror creates an infinity of reflections. The bespoke lighting design enables the room to shift between multiple moods, highlighting various elements and showcasing the award-winning interior design.
Bold Living Room Showcasing Tailored Interior
The living room daringly reinterprets Art Nouveau aesthetics and natural elements in a truly unique manner. Colours and shapes from the ceiling flow gracefully into the walls and rug, forming a harmonious unity of form and proportion.
The bespoke joinery enhances the concept, solidifying Neoklasika's reputation for crafting exceptional, award-winning home interiors.
Intimate Master Bedroom and Bathroom Spaces
The main bedroom and bathroom evoke a more intimate and minimalistic atmosphere. This tailored interior showcases Neoklasika's ability to design spaces catering to their clients' distinct preferences while maintaining the elegance and sophistication of their brand.

The International Design and Architecture Awards 2018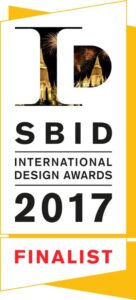 SBID 2017