Warehouse Conversion to Home - A Harmonious Blend of Past and Present
Neoklasika converts a historic warehouse to a luxury home nested within the historic Old Town, a UNESCO World Heritage site. This remarkable property, spanning over 450 m2, is recognized as a National Architectural Monument.
The ambitious vision of the owner to preserve and revitalize the warehouse, which was previously in a critical state, truly showcases the transformative power of converting a warehouse into a home.
Preserving History, Embracing Modernity
At the heart of this project was the desire to create a contemporary living environment while thoughtfully preserving the historical structure of the house.
Neoklasika's meticulous approach to restoration ensured that the authentic architectural details and original plastering were seamlessly integrated with modern design elements.
Bespoke Elements and Timeless Craftsmanship
Neoklasika's signature personalized service and artistic excellence shine through in this warehouse conversion. Bespoke stairs, doors adorned with stained glass details, custom bathroom and kitchen furniture, and tailored wardrobes are all expertly crafted to establish a continuous identity throughout the property.
A Masterful Fusion of Heritage and Innovation
Respect for historical heritage, precise craftsmanship, and high-quality materials are masterfully combined with 21st-century technology to breathe new life into this once-forgotten warehouse.
The result is a stunning, iconic home that transcends time and trends, reflecting the aspirations and values of the discerning homeowner.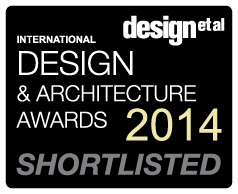 The International Design and Architecture Awards 2014