Embracing Classic Contemporary Interior Design
Neoklasika presents a splendid example of classic contemporary interior design, blending Art Nouveau influences with modern comfort.
This show flat pays tribute to the aesthetics of the early 20th century when the building and a surrounding quarter were first established while incorporating contemporary classic interior design elements for today's discerning clientele.
Timeless Elegance Meets Modern Sophistication
The meticulously designed living spaces, including the front gallery, living area, kitchen, home study, and bedroom, exemplify the fusion of contemporary modern classic interior design with the charm of the Art Nouveau era.
This classic home is tailored to provide an intimate environment for living, working, and entertaining guests, seamlessly integrating bespoke furnishings that accentuate the property's character.
Bespoke Artistry and Exceptional Lighting Design
One of the standout features of the interior is the sculptural bespoke Art Nouveau gypsum wall panels adorning the entrance hall and living room. Skilfully designed lighting enhances the wall design, emphasizing the textures and shapes while offering at least three lighting modes in each area, creating unique atmospheric combinations.
Harmonious Contrasts and Luxurious Finishing Materials
Each area boasts a carefully curated selection of finishing materials featuring balanced contrasts and subtle nuances. The dark hardwood floor has a solid foundation for the lighter wall and ceiling finishes.
Door designs, wall panels, and bespoke furniture feature dark wood accents, while ribbed glass and mirror panels add depth and dimension. In contrast to the smooth-textured walls and wood patterns, exquisite stone surfaces in the kitchen and guest bathroom area introduce an extra level of sophistication, linking historical heritage with contemporary high-quality materials.
Through this project, Neoklasika showcases its expertise in delivering timeless elegance and contemporary sophistication, offering a truly unique classic contemporary interior design experience.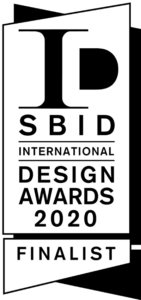 SBID 2020